Hollyoaks airs shock stabbing cliffhanger in James Nightingale story
Will he finally realise he needs help?
Hollyoaks spoilers follow.
Hollyoaks aired a stabbing incident for James Nightingale as his addiction storyline continues.
In tonight's (May 5) episode, James (Gregory Finnegan) accidentally stabbed his son Romeo (Owen Warner). But how did we get here?
In previous episodes, the lawyer became addicted to cryptocurrency apps, worrying his family and colleagues at the law firm with his erratic behaviour.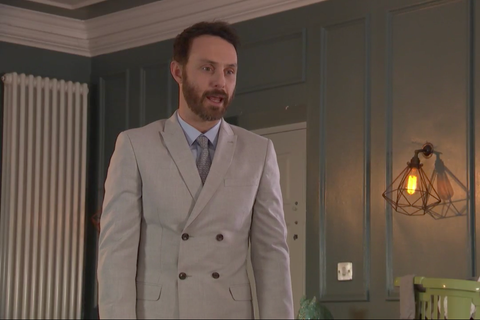 LIME PICTURES
Concerned, Romeo, his sister Juliet (Niamh Blackshaw) and mother Donna-Marie Quinn (Lucy-Jo Hudson) came up with a desperate plan to help James.
They intended to lock James up in his room for a few days in order to keep him away from his phone and addiction. However, the plan backfired as James had a spare key and got out, puzzled about his family's act.
"This is not amusing," James told Romeo and Donna-Marie.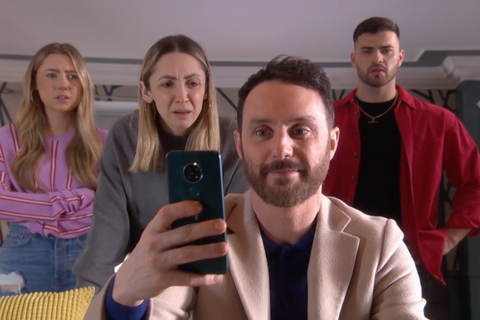 LIME PICTURES
Romeo then accused his father of using his grief over his mother Marnie's (Lysette Anthony) death as an excuse to do whatever he wants, calling him a "coward" who's taking the easy way out.
"Marnie would be embarrassed," Romeo said.
"This is not about you," James replied, ready to head to the casino.
A confrontation ensued, with Donna-Marie asking for Romeo's help to stop James from leaving. James pushed his son out of they way so violently he landed on a sharp shell ornament that was on the floor, and sustained an injury to the abdomen.
Will this be James' wake-up call?
Hollyoaks now streams first on All 4, with new episodes dropping each weekday morning. The show airs Mondays to Fridays at 6.30pm on Channel 4, and at 7pm on E4. Selected omnibus episodes are available via Amazon Prime Video.
Read more Hollyoaks spoilers on our dedicated homepage.
Tags :
Hollyoaks
Hollyoaks 2022
Hollyoaks News
Hollyoaks Soaps
Hollyoaks spoiler