EastEnders star Tanya Franks reflects on Rainie's "incredible" journey in the show
"After all this time she still challenges me".
EastEnders' Rainie Highway has certainly been put through the mill during her time in Walford, from her drug addiction to losing custody of her baby niece Abi Branning.
Throughout Rainie's troubles, the character has continued to evolve, and actress Tanya Franks, who plays her, has told Inside Soap that she is "absolutely" pleased with the journey that Rainie has been on since she first rocked up to see her sister, Tanya Branning.
"When you think that Rainie was only supposed to be in two episodes in 2007 – and here she is 15 years later, it's quite incredible," Tanya said. "There have been different scenarios and storylines for her that I could never have foreseen, and after all this time she still challenges me as a character.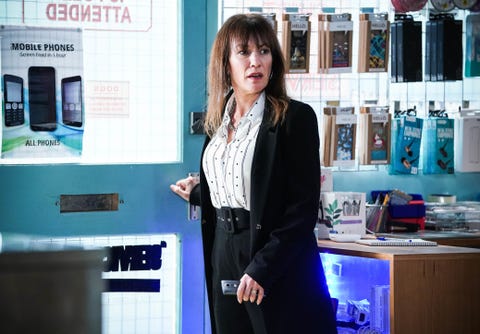 BBC
"Rainie will always have demons as a recovering addict that I still feel inside for her, particularly with situations where she's required to be strong. Honestly? She's been a total revelation to me."
Rainie's difficult behaviour may have made her unpopular at times, but Tanya reckons that fans are much more likely to root for her character now that they've had plenty of opportunity to see what makes her tick.
"I guess because we've had a glimpse into the things that make Rainie happy," she said. "She's always been a bit of a chameleon in that she's not afraid to show different facets of herself, and ultimately, Rainie is a survivor.
"She's like a cockroach in that she's always going to be the last one standing!"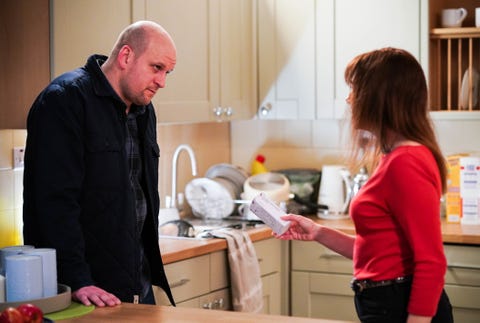 BBC
Rainie is currently embracing her new life as a mum to baby Roland, after surrogate Bernie Taylor (Clair Norris) gave birth to the son that she was carrying for Rainie and her husband Stuart (Ricky Champ).
But despite her motherhood dream coming true, her new situation isn't without its stresses for Rainie, as she tries to support Stuart through his cancer treatment and prove to Bernie, who has found it more difficult to give up Roland than she expected, that they are the best parents for the baby.
"Becoming a mum is a dream come true for Rainie," Tanya explained. "The one thing she's always wanted is to bring up a baby of her own and, while the scenarios aren't ideal, this has been an ambition for Rainie. She doesn't want anything to scupper it."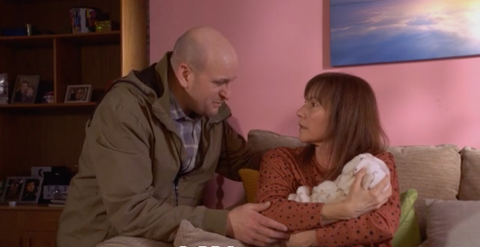 BBC
Unfortunately for Rainie, this week will see her make a sad discovery about Stuart as she finds out that he is taking painkillers and hiding them from her, due to his history of addiction.
Stuart is also struggling to bond with baby Roland, with EastEnders set to explore the issue of postnatal depression in new fathers.
EastEnders airs on Mondays, Tuesdays, Wednesdays and Thursdays at 7.30pm on BBC One and streams on BBC iPlayer.
Tags :
EastEnders
EastEnders 2022
EastEnders News
EastEnders Soaps
EastEnders Spoiler