7 huge EastEnders storylines airing in May
All the gossip right here.
EastEnders spoilers follow.
It's been all change at EastEnders recently, and with summer just around the corner, it's time to have a look at what's ahead for the final weeks of spring.
There's a life-altering month ahead for a couple of our Walford residents, while there's new dilemmas for some and some explosive new feuds for others.
Here's our exclusive guide to some of the biggest storylines that will be airing over the next few weeks…
1. Ben's rape story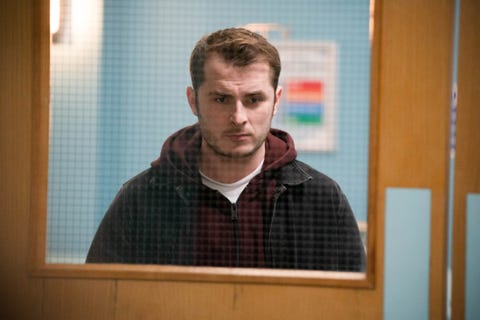 JACK BARNES/KIERON MCCARRONBBC
Last month, EastEnders has confirmed that it will feature a storyline about male rape when Ben is attacked by newcomer Lewis.
Viewers have seen Ben befriend Lewis, who he'll begin to view as someone who can understand him in a way Callum does not over the coming episodes as they grow closer. However, that trust will be abused when Lewis crosses a line and rapes Ben in harrowing scenes airing at the end of May.
Kate Oates, Head of Continuing Drama, BBC Studios said of the storyline: "Through this story, we hope to explore issues of consent, sexual identity, masculinity and sexual assault, focussing on how this fateful night impacts Ben and those who love him over the coming months."
Max Bowden, who plays Ben Mitchell, added: "Alongside some wonderful charities, and some very inspirational survivors of male sexual assault in the UK, I think we've been able to really strive to tell the most truthful account we can, and I hope we can raise awareness and understanding on a topic that is rarely covered. I'm honoured to be given this opportunity to tell such an important story."
2. Jean's story continues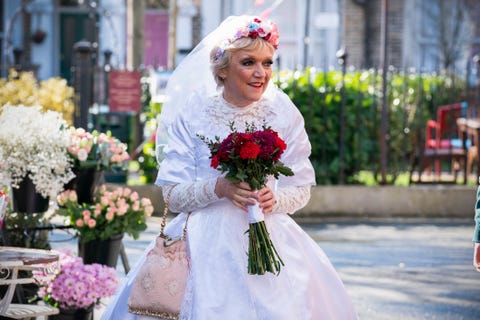 BBC/JACK BARNES/KIERON MCCARRON
Jean's poignant story will also be picked up again later this month, despite coming to a head in last week's haunting scenes.
Thursday's episode suggested that Jean would finally get the help she needs, after she nearly drowned at sea in Southend.
Viewers will learn over the coming episodes that Jean is now in hospital, but Stacey will soon start to wonder if that's actually the best place for her after all.
As Stacey faces a fresh dilemma over how, and where, she can get the very best care for her mum, could she be tempted to take matters into her own hands?
3. Stuart's postnatal depression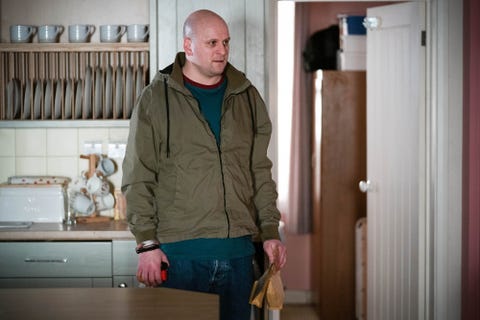 BBC
Stuart is another character to watch over the next few weeks, as he struggles to bond with his baby son Roland.
EastEnders has recently confirmed a postnatal depression story for Stuart, who is also undergoing treatment for male breast cancer.
As Stuart continues to avoid situations where he's alone with Roland, he'll eventually begin to question his love for the baby.
The show has worked closely with PANDAS and Mind on the mental health storyline to ensure it is portrayed as realistically and as sensitively as possible.
4. Mick's love triangle…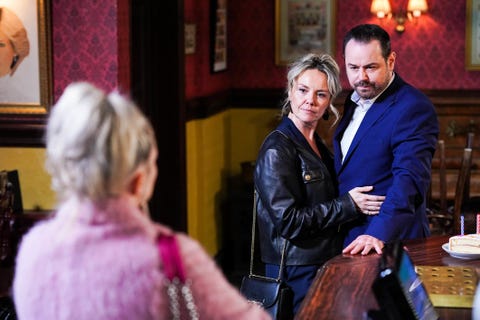 BBC
Life with Janine was never going to be simple, but when you throw in the added complication of his unresolved feelings for Linda as well, it's fair to say that Mick's in a bit of a pickle throughout May.
With Linda determined to fight for her marriage, old feelings could begin to resurface for Mick as he spends more time with his ex.
But as Mick ponders his future, rest assured that Janine won't be going down without a fight….
5. …Linda vs Janine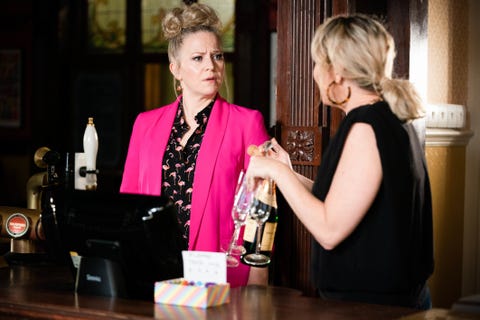 BBC/JACK BARNES/KIERON MCCARRON
That's right, get prepared for round two between the love rivals this month.
As Linda continues to find her feet back in The Vic, expect some very fiery scenes between her and Janine as they go head to head again.
Recent paparazzi pictures have also offered a brief insight into the unmissable drama ahead for Linda and Janine during the summer as well. But could Linda have vastly underestimated scheming Janine?
6. Sam's new venture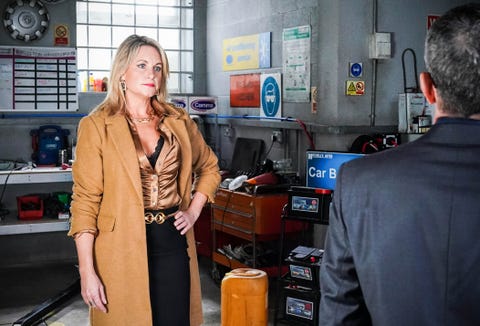 JACK BARNES/KIERON MCCARRONBBC
Despite her very hostile welcome, an unfazed Sam will be continuing to lay down roots in Walford in upcoming episodes.
First up on Sam's agenda is a new business venture – and she's got her eyes firmly set on her old haunt: Ruby's club.
Sam will stop at nothing to get what she wants, and doesn't appear to care who she hurts in the process. Which could be bad news for Kat and Denise…
7. Frankie reconsiders her future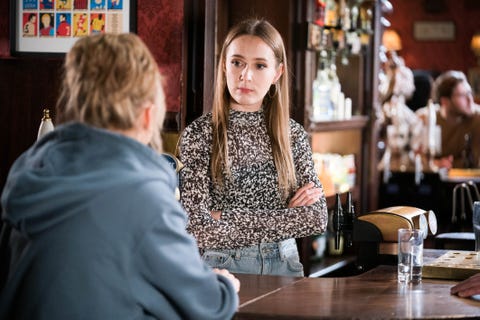 BBC/JACK BARNES/KIERON MCCARRON
A face from Frankie's past will make her reevaluate her future this month, sparking a brand new chapter for her.
When Frankie bumps into an old university friend called Clara, she is left feeling like she hasn't achieved as much as she would have liked and finds herself over-inflating her success.
As a result, Frankie is inspired to turn fiction into reality and get back into photography, with a some help from her friends. But has she bitten off more than she can chew with this one?
EastEnders airs on Mondays, Tuesdays, Wednesdays and Thursdays at 7.30pm on BBC One. All episode are also available to watch via BBC iPlayer.
Read more EastEnders spoilers on our dedicated homepage
Tags :
EastEnders
EastEnders 2022
EastEnders Spoiler